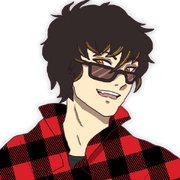 Equal parts stylish and charismatic, Jin Thirteen is the founder of
New Millennium Incorporated
and a famous bard to boot. Skilled with guitars both acoustic and electric, he was once part of a famous band and is still fairly well known in
the Canopy
for his musical work, which is jazz, funk, and soul influenced. Listeners often describe his voice and music as 'mature yet soothing'.
Always keeping up with the latest trends, Jin is almost never seen without his trademark sunglasses and his cool attitude. He's made several brands under the New Millennium branding, such as the fashion label "Thirteen, by Jin Thirteen", the fast food chain Space Case, and the music label Stratosphere Records.
Secretly, Jin Thirteen is a genie who loves nothing more than granting people's wishes--but he only comes when called upon by a very specific number...