Up until recently,
Sky-Feather
, an
Irotori
of
the First Tribe of Wintervale
, was known as Thief the Exiled. She was excommunicated from her Tribe when she revealed vital information about her secretive people to one Lukas Rademacher, known to her as Rath Kader. This informatio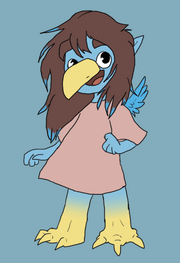 n was, unfortunately, not taken well by the people of
Wintervale
, who then became nervous around and occasionally hostile towards Irotori.
Despite the racism towards Irotori, when she met with Nola Dovreisi, Queen of Wintervale, Sky-Feather (then Thief) was offered a position as a member of the Court of the Frozen Heart. She has since trained and served as a Frozen Heart, earning the title the Unyielding for her stubborn tenacity. Additionally, she worked to lessen the feelings of mistrust towards her people in Wintervale.
Sky-Feather's true name was returned to her by her mother, Ae Ressanei, leader of the Second Tribe of Wintervale.
GOD THERES JUST SO MUCH I COULD WRITE ABOUT HER
Community content is available under
CC-BY-SA
unless otherwise noted.